I have been on a vacation for a month and getting kind of bored – so yesterday we went to pick up a Harley Davidson V-Rod. Since Ducati Diavel left a lot to be desired, Harley Davidson was the next choice. But not your typical Harley – Loud, obnoxious, unreliable… This little beast was designed along with Porsche and built Yamaha – it's a beast.
So our little beasts couldn't keep their hands off it. Timmy has been asking for a motorcycle for a while – so he actually got to ride on top of the Vrod. When I say smooth, I mean it. I was able to release the clutch and have the bike cruise along without throttle at all.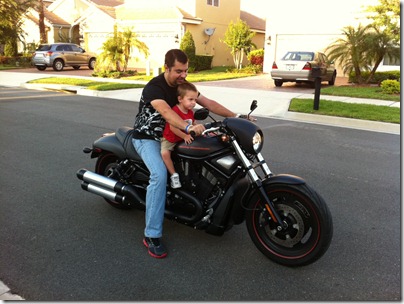 Sam got on as well.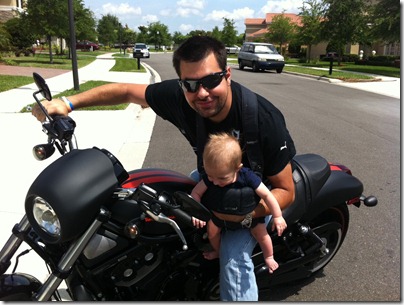 I imagine some day soon I'll have to start telling them that they can't have a motorcycle because they are not responsible enough. I am not entirely certain what sort of an argument I'll be able to mount considering that I have my infant and toddler sons on top a Harley. Thankfully, I have at least 15 years to figure it out.